Hi, there friends! Debbie here.
Have you ever had a fried pickle? First introduced in the 1960s, they were new to us too. That was up until we moved to the south where they fried, well, just about everything!

Fried chicken, fried green tomatoes, sweet tea, southern pulled pork, Shrimp and Grits, Collard greens are all staples on just about every menu here, and no, most of them are NOT light in calories.
When making fried pickles, you will definitely want some dipping sauce. Blue Cheese, Ranch, Cheese Dip, and Hot Sauce all pair extremely well with fried pickles, so take your pick(le) and let's get started!
For this recipe, you will need dill pickles, buttermilk, flour, cornmeal, and a few spices, including cayenne pepper for a kick and of course your Ninja Foodi, or any brand air fryer.

Oh and please, do NOT use Italian breadcrumbs. You will have your southern sisters rolling over in oats over that one. This is not an Italian appetizer, hence, no use of Italian breadcrumbs, please.

Thank you.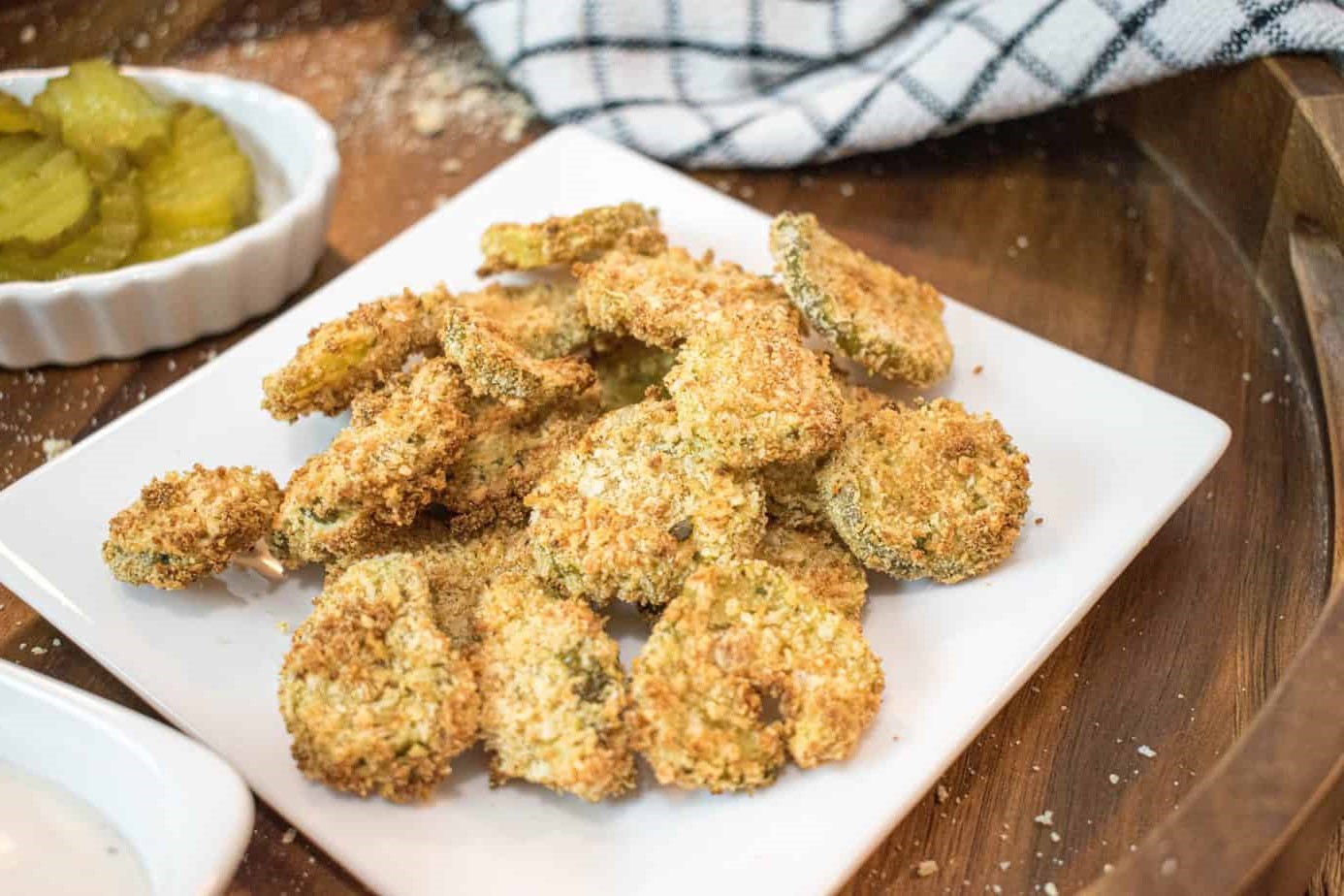 Did I mention for the sauce, you can mix a little of the blue cheese along with your hot sauce?

Oh boy, is that ever delicious! We love Franks Red Hot Sauce, but any hot sauce will do. Fried Pickles should be light airy, crispy – not greasy.

Overall, these aren't too bad for you, but despite temptation, you don't want to eat the whole plate!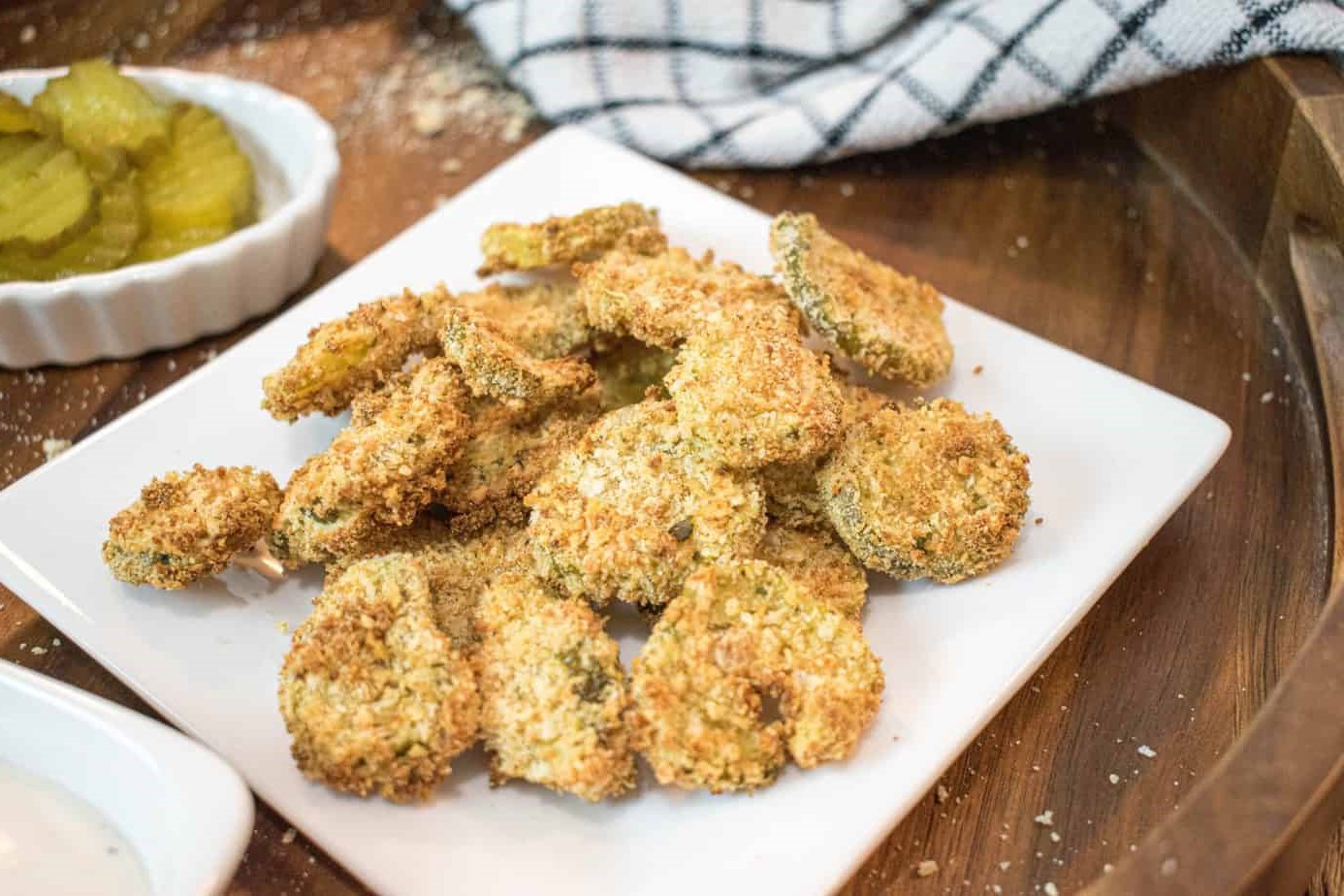 Just a couple of tips when making fried pickles in the Ninja Foodi.

Make sure your pickles are completely patted dry. We like to lay them out on a plate on a paper towel to get the excess juices out. It will also ensure that your coating will stick better.

When layering them in your Air fryer, be sure they are spread out and not on top of one another. Serve immediately to experience the best quality and flavor, as they will get soggy otherwise if sitting too long.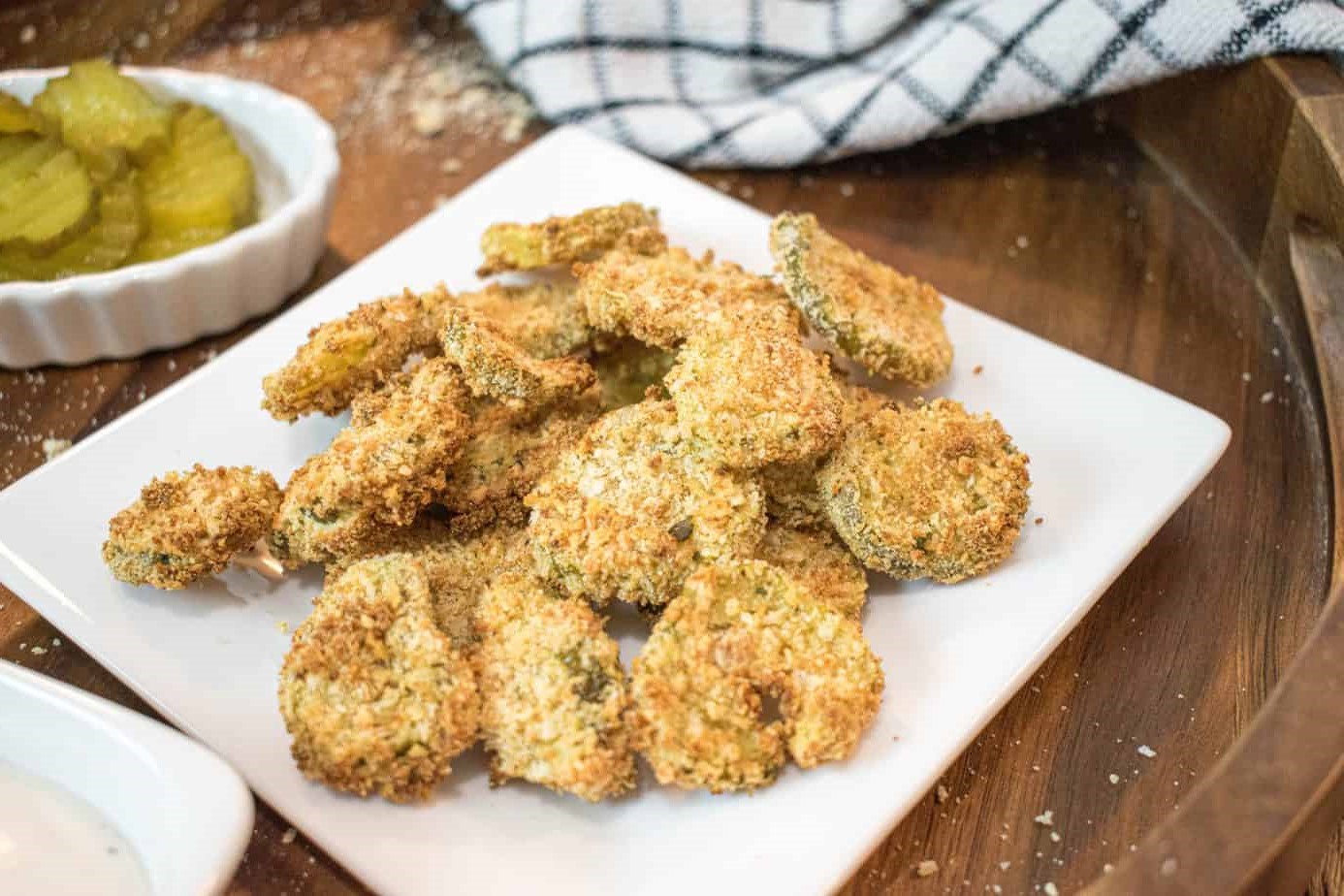 Fried pickles are fun, fast, and simple to make in batches. We hope you give them a try and let us know what you think!
Ninja Foodi Fried Pickles
Equipment
Ninja Foodi

Ninja Foodi Grill

Ninja Foodi Air Fryer

Air Fryer

Mealthy CrispLid
Ingredients
1

jar

Dill pickle chips

Vlasic are great- make sure they are patted dry

1/2

cup

All purpose flour

1/2

cup

buttermilk

1 1/4

cup

cornmeal

1/2

tsp.

Cayenne pepper or Old bay seasoning

avocodo or butter spray
Instructions
Lay out your pickles on a plate over a paper towel to be sure to get all the excess juice out.

Pre heat your Foodi or Air Fryer. We like to use the broil option to heat it up quicker.

Set out two bowls, one with with Buttermilk. The other with cornmeal, flour and spices may go in bowl together. Just be sure to mix well using a fork to ensure even.

Next, dip pickles in the buttermilk and evenly coat.

Next dip pickles in cornmeal, flour and spices bowl and be sure all are coated even.

Lightly spray the bottom of the Air Fryer basket with oil. Layer the pickles on the bottom of the pan and be sure they are not touching.

Set the heat to 390 degrees Air Fryer and close lid for approximately 8 minutes. BE sure to check on your pickles that they are not getting too brown too fast. You may flip, or kick down the temperature to 350. Carefully remove and set on a plate and be ready to serve. ENJOY with your dipping sauace.
Notes
Note: You may cut this recipe in half, and only do half a jar. Reduce the amount of flour, cornmeal, buttermilk, and spices accordingly. 
You will want to make the whole jar:)
You can also use spear pickles just the same for this recipe
Insta-Magnets – Pressure Cooker Cooking Time Magnets (Set of 4)
Join in on the Pinning Fun over on Pinterest!